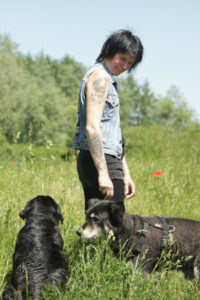 Hello, my name ist Patsy,  I am 39 years old and a musician and since March 2018 I have been working as a professional dogwalker. Working with dogs wonderfully compliments my other passion, music.
Dogs have accompanied me almost my whole life, and over all those years I've been studying their "language" and behavior very well. It has helped me to understand how to guide the dog to become a loyal and faithful friend, and what they really need to be happy and feel safe with us.
In 2018 I turned my hobby into profession and I realised my dream to work as a self-employed dogwalker to support dog owners with a dogwalking service.
Every day I look forward to new challenges and adventures with the dogs. And like with the music, I do this with all my heart.
The best feedback I get, is from the dogs themselves, when I see them happily waiting for me at the door every day. And of course from their content owners, when I bring them a relaxed and satisfied dog back home.
"Choose a job you love, and you will never have to work a day in your life."




(Confucius)